We were at a complete loss when we first started hotel / Airbnb hunting, and had absolutely no idea where to stay. We narrowed this down slowly to a few places of interest. We have a number of reasons for choosing to stay in Les Trois Ilets, but the main one was the recommendations of others.
---
Table of Contents
---
We didn't know that we'd have a house guest named Su — she's our host's cat. We feed her every day and scratch her behind the ears if she so wishes.
When still clueless, we narrowed down our selection by reading people's opinions about the beaches — we wanted to be close to one that we would like. This helped us rule out the east coast, which has strong waves and currents. We contemplated the southern areas of Le Diamante and Le Marin too, but they were quite far from the airport and not as good a base to visit the whole island.
The view of Les Trois Ilets from the next street over from our villa.
Les Trois Ilets has a number of things going for it — it has a few small supermarkets and stores, a few restaurants, and you can pretty much walk anywhere by foot. If you want to get to the closest nice beach – Anse-à-l'Ane (I wrote about it in more detail here) — you will run out of sidewalk for a hundred metres or so, but it shouldn't be more than an hours walk (younger people should make it in 30-40 minutes. I strongly suggest a car however. The beach on Pointe du Bout is much closer. What we value most in this small village is how quiet it is — our villa is not in the town itself, but just outside, in a residential area, on a hill with a great view.
A roundabout just before entering the centre of Les Trois Ilets.
An abandoned house, just off the main road…
… with strange plants growing in its garden.
Most of the restaurants in Les Trois Ilets are not obvious at first glance. For example, that yellow building in the shot above is one. There are even a few restaurants in people's own houses — each with three or four tables. There's no menu though — you can have what the cook made, which is usually creole cuisine. There are of course a few more traditional ones, and even one run by Italians.
It might not look like much at first glance, but the store is pretty well stocked, with most of the products we required. If you want fresh produce however, don't buy it here.
In the town square, fifty metres or so from the store I mentioned earlier, is a market where the local farmers sell fresh fruits and vegetables. You can also find many people selling them off carts by the side of the road. We can't recommend them enough — their food is fresh and delicious.
If you want the best, you should go there in the morning — 9:00 at the latest.
The market is right in front of the church in the town square, which is also the resting place of Empress Josephine's mother (more on her below).
This is the main street running through the village. That building on the left, which looks as if it was taken from a western starring Clint Eastwood, is the police station. The road itself leads to two places of interest — Pointe du Bout and Anse-à-l'Ane.
On the left, past the police station, is a pretty popular restaurant serving delicious, and pretty fancy, food.
A little further, on the other side of the road, is a great little creole place, whose owner is friends with our villa's host. We had the grilled fish and grilled ribs — both were excellent.
Both restaurants are open from around 10:00 in the morning until 13:00 or so, and then from 19:00-19:30 until late in the night.
A side street leading down to the marina.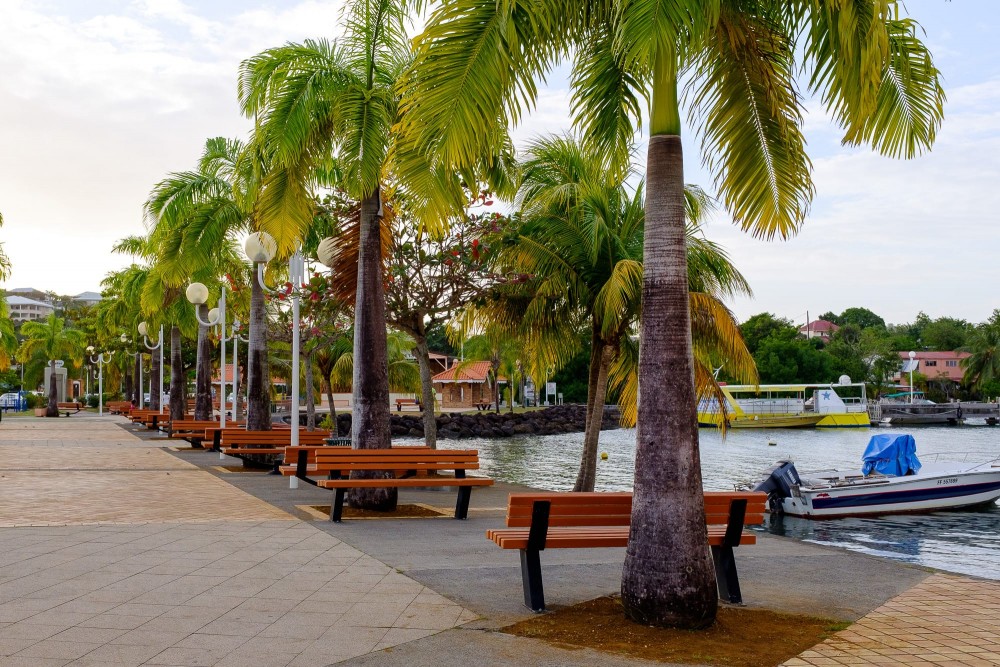 The marina has two or three small restaurants where you can grab something to eat and drink — make sure to try the freshly squeezed juices. There are also a few less obvious restaurants on the street running next to it.
There is no beach here however. The closest one is on Pointe de Bout, about two kilometres away.
A little further up the main street — the one with the police station and restaurants I mentioned earlier — it a delightful patisserie. I strongly recommend trying the éclaires — they're extremely well done. Oh, and the coffee isn't bad either.
The patisserie is called L'escale and you can even get a burger there (and various other fast foods), should you want one.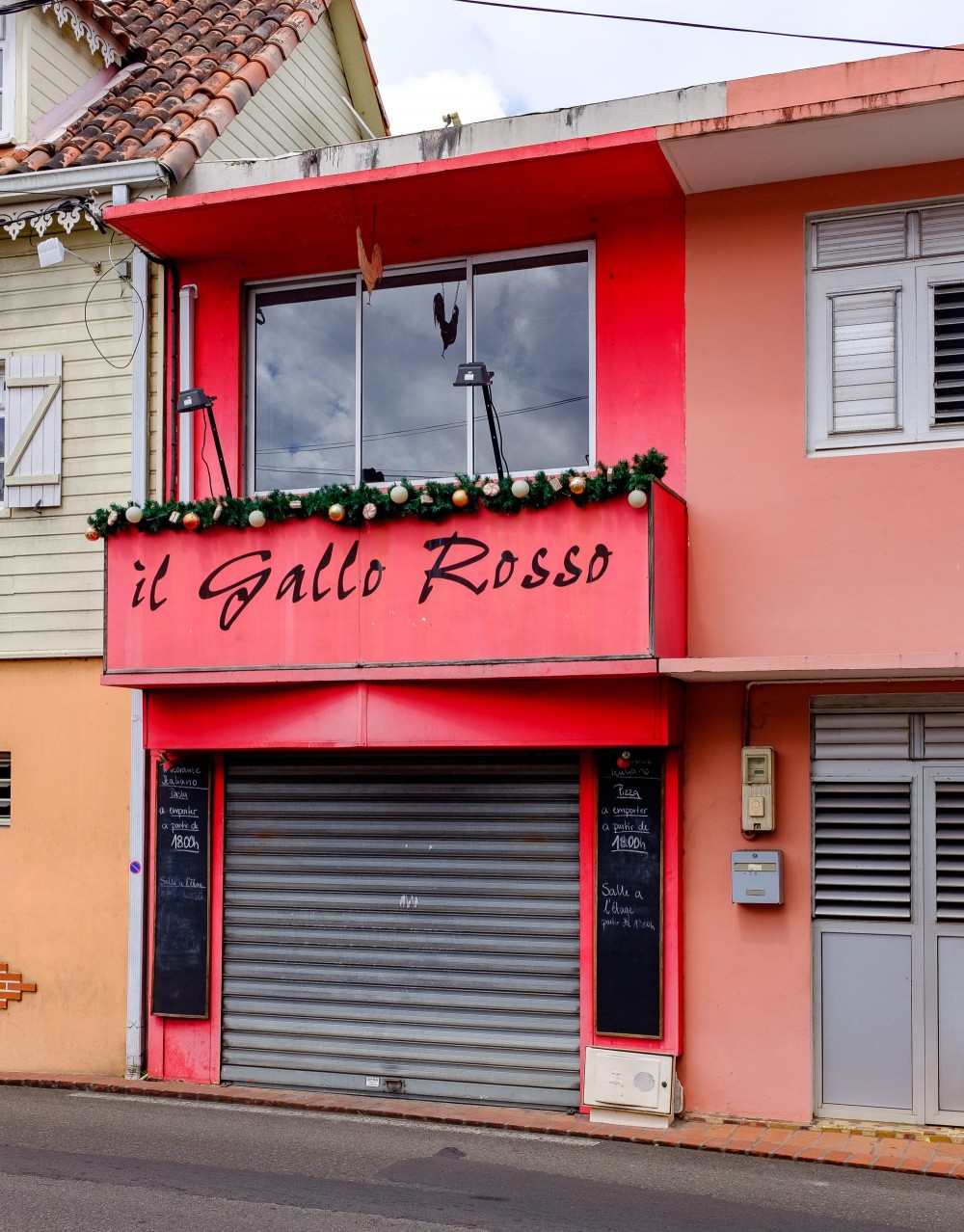 I mentioned that Italian place earlier… It's run by a bunch of guys from all over the country — Rimini, Naples, Rome, and a few others. They're very friendly, speak English, and make a delicious pizza.
A panorama of Les Trois Ilets.
Pointe du Bout is very specific in its charm. It's much more touristy, with multiple bars and restaurants along the beach. It's also much louder in the evenings — if that's something you like or seek, then you'll feel right at home.
Though I will admit that the sunsets there are quite stunning
Since Les Trois Ilets was the birthplace of the Empress Josephine, who was Napoleon Bonaparte's wife at one point in her life, there's a museum worth visiting — Musée de la Pagerie — if you're interested in her history (there's quite a bit on Wikipedia too). She wasn't loved on Martinique, mainly due to the fact that she was very slow to abolish slavery, a full half century later than Guadeloupe (if I recall my history correctly). You might want to see La Savane des Esclaves (Slave Museum) since we're on the subject.
In the photo above, the villa on the hill above the cars on the roundabout, is the Maison de la Canne (House of Sugar Museum), supposedly worth taking the time to visit — it's on our to-do list.
---
To summarise — we like it here. It's a good base of operations to travel around the island by car, it's not far from the airport, the beaches are close by, it's relatively quiet, and the food is delicious. But if you want to have some more fun by night, make sure to stay on Pointe du Bout.