Little did we know, setting out in the morning for Anse Michel, that later in the day we would be driving down a road, which was narrower than our car, and had enough sharp rocks to give a Land Rover pause. We did not have a Land Rover. In fact, we barely had a car…
---
Table of Contents
---
However, we first decided to visit Cap Chevalier and Anse Michel. Little did we know that we would discover the most perfect beach for kitesurfing.
The sheltered bay is a 200 metre walk from the parking lot. Anse Michel is truly fantastic — it has a shaded area under the palm trees, with two restaurants (the food is often gone by 14:00, so order quickly!), and a wonderful beach.
The water here is very shallow, and there's a reef here — that means you have to watch where you step. Snorkelling seems popular, and for good reason.
The beach itself is pretty long, and very windy, since it opens up to the Atlantic Ocean. If you're into kite or windsurfing, this is the place to go — there's a school here, as well as a place to rent the necessary hardware.
The benefit of such shallow waters is their warmth — if my Kindle was waterproof, I'd spend the whole day in the water.
My wife has bumped this beach up to her no. 1 spot, despite the wind. She fell in love with the shade area under the palm trees. It's just behind Grande Anse des Salines in my book.
This is the good road to Anse Trabaud — not the one mentioned below.
While the road to Anse Michel is more than good, we decided to go to Anse Trabaud, which is a little to the south. It was supposed to be beautiful, secluded, and very romantic. I opened up Google Maps, selected the shortest route, and off we went.
About a hundred metres later, I started having my first doubts. The asphalt disappeared, and was replaced by rocks and gravel. It started getting harder and harder to navigate, and the road started snaking up and down various hills. We braved on — it was only 5 kilometres away! Since we had a Renault Twingo, I had to keep the speed under 10 km/h, or we'd risk breaking something. I was also wary of tire punctures — we were a long way away from any help, and had just one spare tire. We passed a crest and started heading downhill, the rocks getting ever larger. A few metres later the road started narrowing dramatically — the bushes started scraping the sides of the car, we were still going downhill, and the lawnmower of an engine had less horsepower than a hamster. I noticed that the road up ahead had huge mounds of rocks which we surely couldn't overcome. There was no way to turn around, so I had to back up uphill in reverse for a few hundred metres, remembering that we had that damned hamster under our bonnet. Luckily I didn't burn the clutch, and we finally managed to get back to the main road.
We did not give up however.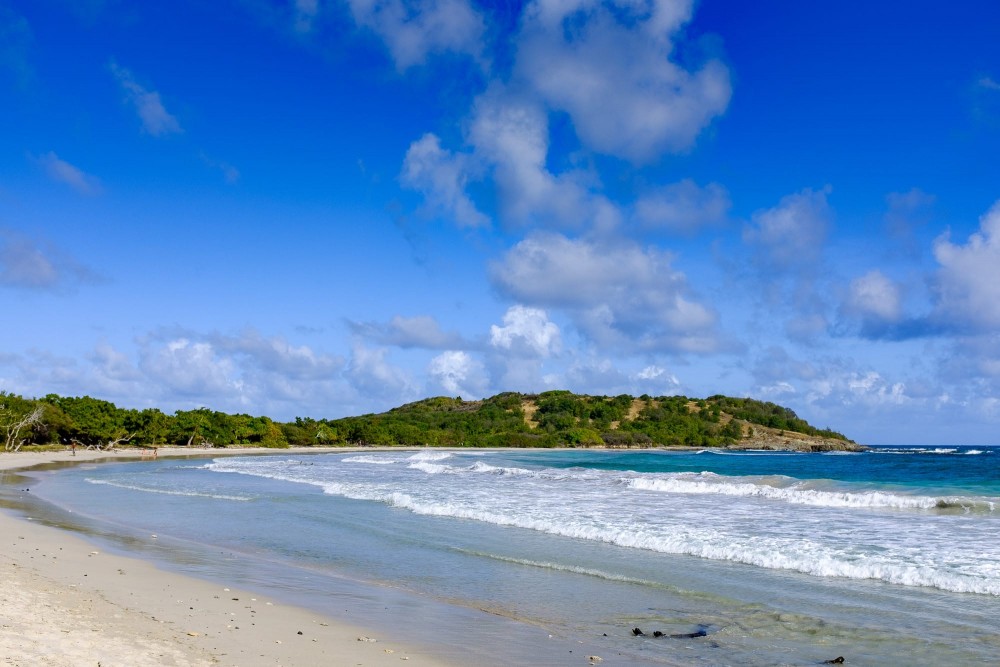 We chose a different route — the longer one suggested by Google Maps. We ended up driving down a gravel road, not much better (but much wider) than the previous one. It took us 30 minutes, a half litre of sweat, and a few grey hairs, to finally get to Anse Trabaud. I do not recommend this route unless you have a Jeep of some sort. And a spare tire, just in case.
Anse Trabaud is not as beautiful as Grande Anse des Salines or Anse Michel, but it is sheltered from the wind. The waves are pretty huge here however. Oh, and nudism is allowed, which we learned from the information board on the beach (though nobody there was naked).
Anse Trabaud is extremely hard to get to (and you have to leave at 17:30 at the latest — they close the gate at 18:00), which means that there are very few people there. There were probably about three to four couples (and a pair of kids) in the whole bay — complete and utter privacy.
---
Today was a good day. Mostly because we lived to tell the tale. And didn't break the car.