Safari Technology Preview dropped today and while the big news is that you can use it with your iCloud account because it's signed by Apple, there are a few basic settings you should remember about — you are setting this up as a new browser after all.
To enter settings, either use the ⌘, keyboard shortcut, or choose Safari Technology Preview → Preferences in the menu.
Please remember to uncheck the Open "safe" files after downloading checkbox at the bottom of the General tab. This is for your own safety and I don't believe it should be on as the default setting. I also always like to set my new tabs and windows to open with an empty page.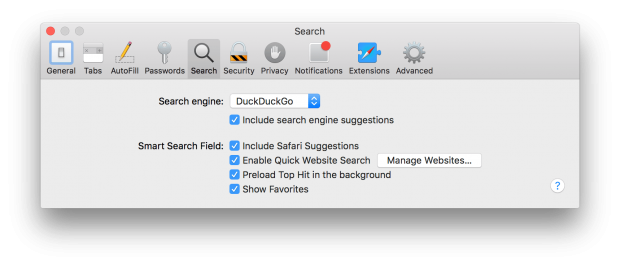 If you don't to be tracked and prefer a more privacy-conscious search engine, I highly recommend switching to DuckDuckGo. If you have to use Google for some reason, just use what DDG calls 'bangs' — add !g before your query, eg. !g oscar nominees list. This command will initiate a secure Google search. You can find more 'bangs' here.
I always run three extensions: 1Password, Ghostery and Direct Links. You can add these in the Extensions tab. I also like to select Show full website address on the Advanced tab.
After setting that up, you might also like to take a peek into the View menu. I like to have my tab and status bars turned on.
---
Have fun, stay safe, and you can download Safari Technology Preview over here.